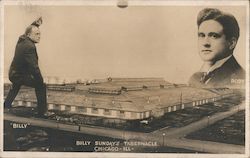 His professional baseball career began with the Chicago White Stockings in 1883 (he struck out his first 13 at bats); he moved to the Pittsburgh Pirates, and in 1890, to the Philadelphia Athletics, where he was batting .261, then at the height of his career, the fleet-footed Sunday (who had just stolen 84 bases in 1890) quit baseball to enter Christian work.
Ever since his conversion to Christianity at the Pacific Garden Mission in Chicago in 1886, he had felt an increasingly strong call to preach. The YMCA finally convinced him to leave baseball to preach at their services (which meant a two-thirds cut in pay). He moved on to work with two other traveling evangelists, then was invited to conduct a revival in Garner, Iowa. From then on he was never without an invitation to preach, at first holding campaigns in midwestern towns and then, after World War I, preaching in Boston, New York, and other major cities.
This was just the beginning for Sunday. Until Billy Graham, no American evangelist preached to so many millions, or saw as many conversions—an estimated 300,000.
For more information please check out these links on Billy Sunday
Springfield Billy Sunday revival 1909
Overall biography on Billy Sunday